Isopropyl Alcohol 99% (99.5-99.9%)
Technical lab grade Isopropyl Alcohol, Isopropanol
CAS# 67-63-0
8 fluid ounces
Made in USA. January 2020 batch. Limited Supply
Typical uses: Sanitizer, disinfectant, first aid, paints.
Flammable liquid. Not for human consumption. Keep out of reach of children. Irritating to the eyes/skin and respiratory tract. Eye exposure can cause corneal burns.
Emergency hand sanitizer formula
3 parts 99% Isopropyl alcohol / 1 part aloe vera gel
(alcohol concentration 74.62% hand sanitizer)
If aloe vera gel is not available you can use other thickeners and
skin conditioners such as Carbomer, Glycerin, Propylene glycol or
baby oil gel.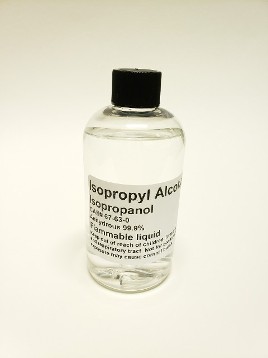 Free Shipping!
8oz Isopropyl Alcohol 99%
$13.50